Agenda
Naomi Rofagha, piano & Sofia Voicu, viool
Datum:
27-08-2023 11:30:00
Details: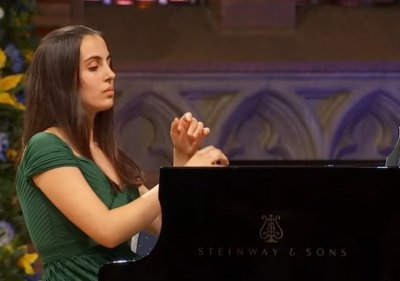 Naomi Rofagha Born on 25/02/2006
Studies 
Full-time student at Musica Mundi School (international Cambridge school) since 2018; Piano teacher: Hagit Hassid-Kerbel 
Piano student at Center Musical Eduardo Del Pueyo since 2020 
Monthly masterclasses with Jacques Rouvier 
Other masterclasses with Jean-Claude Vanden Eynden, Pawel Gigilow, Andreas Fröhlich, Vincenzo Balzani and Philip Raskin
Summer classes 
2022 International Mendelssohn Academy (Leipzig, Germany) 
2022, 2021 and 2019 Musica Mundi Festival (Waterloo, Belgium) 
2018 Tadini Piano Festival (Lovere, Italy)
Public performances 
First public performance at the age of 10. Regular public performances since the age of 12 both as soloist and in chamber music.
Sample recordings of public performances: 
Solo at Musica Mundi Festival Concert, Waterloo, 31 July 2021: https://www.youtube.com/watch?v=mlcT6-RvhZw&ab_channel=MusicaMundiStudio (from 1h50min on) 
Piano quartet at Musica Mundi Concert, Waterloo, 21 December 2021: https://www.youtube.com/watch?v=gkRsX0kzHl4&ab_channel=MusicaMundiStudio (from 33min40sec on)
Competitions 
2022: Second prize at César Franck International Piano Competition (Brussels, Belgium) 
2022: Finalist at Young Belgian Talent competition including public final concert (Flagey Studio 4, Brussels, Belgium) 
2021: Fourth prize at international Nomea competition (online) 
2021: Finalist at international TV.classique competition (online) 
2018: Third prize at Tadini International Piano Competition (Lovere, Italy) 
2016: Finalist at César Franck International Piano Competition (Brussels, Belgium)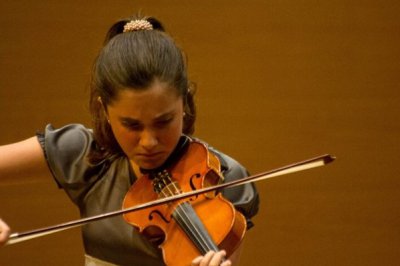 Sofia Voicu was born in Murcia (Spain), where she started taking violin lessons at three with Maria Dolores Alburquerque. From eight to twelve years old, she studied at the "Conservatorio de música de Murcia" while taking lessons with Yuli Rakipaj and Nikolay Grabovskiy. At age 12 she won the first prize in "Concurso Villa De Molina". She has participated several times in the « Musica Mundi chamber music course and festival » and in masterclasses with professionals such as Alexandra Soumm, Anna Baget, Mihaela Martin and Zakhar Bron. She is currently studying under the direction of Leonid Kerbel and Benjamin Braude at Musica Mundi School.
---